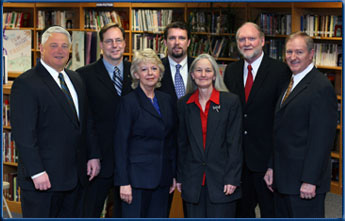 The Cherokee County Board of Education is the governing body of the Cherokee County Schools System. The primary role of the Board is the legislation of school system policies, which are executed under the direction of the school superintendent.
The Cherokee County Board of Education's mission is for every student to graduate from high school, be globally competitive for work, post secondary education and prepared for life in the 21st Century.
The Cherokee County Schools District Board of Education consists of seven members who are elected at-large to staggered, four-year terms representing individual districts. They meet monthly at alternating district school campuses.
Ms. Jeana Hardin
- Superintendent -
911 Andrews Road
Murphy, NC 28906
Work Fax: (828) 835-7896
Email: superintendent@cherokee.k12.nc.us
 

Ms. Wanda Arrowood
- Board Chair -
240 Drew Taylor Road
Murphy, NC 28906
Home: (828) 837-7950
Email: wanda.arrowood@cherokee.k12.nc.us
 

Mr. Paul Brown
- Vice Board Chair -
600 Hilltop Road
Murphy, NC 28906
Home: (828) 644-5690
Email: paul.bown@cherokee.k12.nc.us
 

Ms. Debbie Hogan
- Board Member / Scribe -
P.O. Box 464
Marble, NC 28905
Home: (828) 837-9098
Work Fax: (828) 837-3266
Email: debbie.hogan@cherokee.k12.nc.us
 

Dr. David Ackerman
- Board Member -
1575 Main Street
Andrews, NC 28901
Home: (828) 361-6569
Work: (828) 321-3316
Work Fax: (828) 321-2298
Email: david.ackerman@cherokee.k12.nc.us
 

Mr. Randy Barnett
- Board Member -
2336 Barnett Road
Murphy, NC 28906
Home: (828) 837-7601
Email: randy.barnett@cherokee.k12.nc.us
 

Mr. Winfield Clonts
- Board Member -
168 Clonts Road
Murphy, NC 28906
Home: (828) 644-5428
Email: winfield.clonts@cherokee.k12.nc.us
 

Mr. Tim Coffey
- Board Member -
,
Email: tim.coffey@cherokee.k12.nc.us
 
There was an error retrieving the news feed